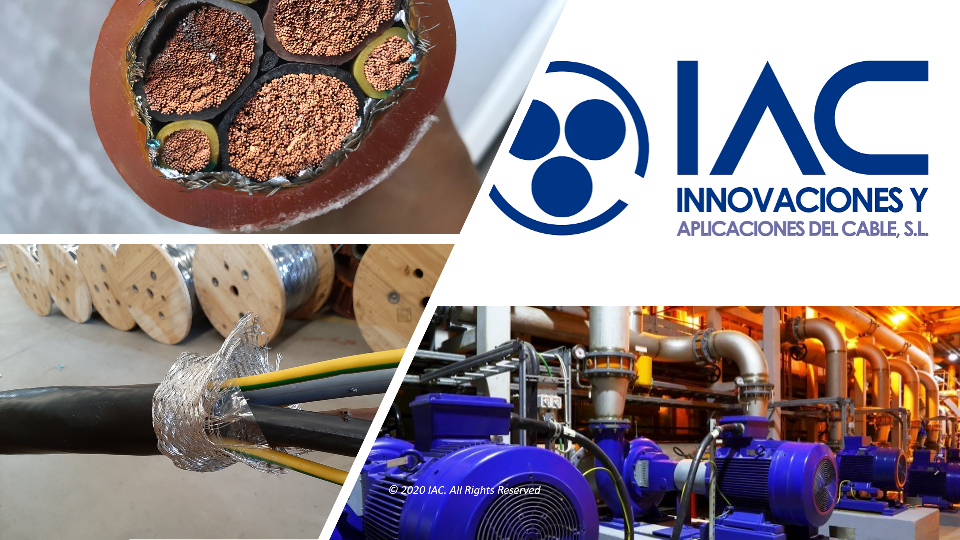 IAC manufactures power cables for VFD frequency inverters, within the range of cables with EMC electromagnetic protection. These VFD cables are used in multiple applications where there is a risk of electrical noise between neighboring devices. The shielding allows the cable to be isolated from electromagnetic interference, acting bidirectionally both at the output and input, generating effective protection of the equipment's performance.
There are different types of shielding, both by means of aluminum-polyester tapes, with concentric screens, and with mesh braids of polished or tinned copper wires. The combination of several elements is also common to achieve protection close to 100%. Depending on the needs of the project, the cables can be built in a particular way to guarantee the protection, as well as the flexibility and robustness of the cable.
One of the common uses of
EMC cables
are
IAC's VFD cables
, the use of which is becoming more and more widespread given the high sensitivity of the equipment to be protected (motorization and maneuvering equipment for production, transport or transmission lines). Currently, industries prefer to invest in cables prepared to protect expensive equipment and whose stops can cause critical situations and high repair costs and incalculable production losses.
The construction of the IAC's VFD cables can be diverse, both in the type of copper conductor in class 2, 5 or 6 in mm2 as well as in AWG, with XLPE insulation and PVC or halogen-free sheaths. These 0.6/1kV cables are built under IEC standards and have CPR certification. At IAC we manufacture versions with symmetrical, reduced and distributed 3+3 ground conductors, indistinctly as required by the project. Some of the versions that IAC manufactures are ROZ1-K (EMC), Z1C4Z1-K, 2YSLCY-J, 2YSLCYK-J, 2XSL(St), among others. Production deadlines are very competitive and we offer our clients the possibility of adapting the construction of the cable and proposing cost and operational improvements from the IAC technical department.
To know more about VFD cables :
Linkedin article from a VFD expert HERE
IAC's Linkedin VFD profile HERE
Download our VFD cables brochure HERE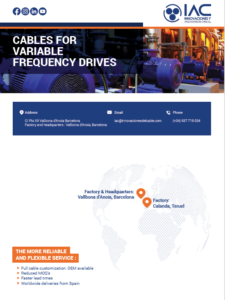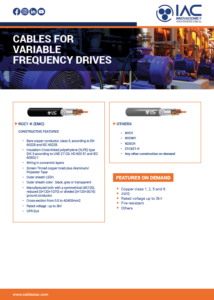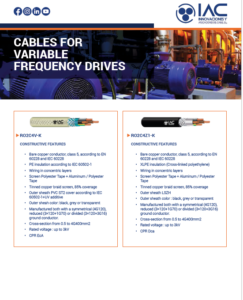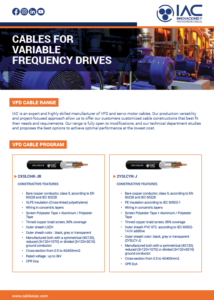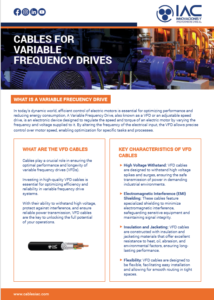 2XSLCHJ-JB
2YSLCYK-J
RO2C4V-K
RO2C4Z1-K
ROZ1-K EMC
OTHERS
2XSLCHJ-JB

2XSLCHK-JB
APPLICATION
Halogen-free screened flexible cable, designed for use in industrial processes and motor power.
Especially recommended for variable speed drives due to its double shielding and symmetrical distribution of the protection conductor. 
CONSTRUCTIVE FEATURES
Bare copper conductor, class 5, according to EN 60228 and IEC 60228

XLPE insulation (Cross-linked polyethylene)
Wiring in concentric layers
Screen Polyester Tape + Aluminum / Polyester Tape
Tinned copper braid screen, 85% coverage
Outer sheath LSZH 
Outer sheath color : black, grey or transparent
Manufactured both with a symmetrical (4G120), reduced (3×120+1G70) or divided (3×120+3G16) ground conductor.
Cross-section from 0.5 to 4G400mm2
Rated voltage : up to 3kV
CPR Dca
More information and technical sheets: iac@innovacionesdelcable.com
2YSLCYK-J
RO2C4V-K
RO2C4Z1-K
ROZ1-K EMC
OTHERS
We are Solustrid
Industrial News